About me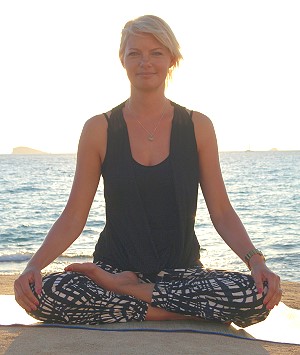 Yoga became an integral part of my life about 5 years ago …for two main reasons. I was searching for a tool that would help me simplify, restore and calm my ever busy mind – to give it a little peace – something to help me find a way through life's difficult obstacles that I felt were continually being thrown my way. I was also feeling sluggish, inflexible and unfit; I felt stuck in a rut and knew I needed to improve my general health and well-being, along with my mindset.
From the moment I took that first class, and indeed ever since that first class, I knew I had found my place, my 'space'; I felt inspired. Over time, my mind became more relaxed, I began to feel at ease with the postures and flow of Yoga and my own posture improved dramatically.
Using the meditation and breathing techniques that yoga offers, I noticed that my mind 'stilled', I could live in the moment more and I was was not so often anchored in the past or projected to the future. Very soon I realised, with total clarity, that I wanted to share all the benefits that yoga had given me with others – so I decided to train to be a yoga teacher.


In September 2012 I qualified under the 'Sam Rao' Yoga teacher training school and I couldn't wait to start teaching - so I did – I set-up my local classes in Yateley.
My teaching style is influenced and inspired by Hatha and Iyengar yoga with an Ashtanga flow feel. I couldn't wait to start teaching, to try and help others find their own "space" and love of yoga, just like I found mine - I set up my classes in a creative,unique and open minded environment with a relaxed, informal atmosphere, which is fun but challenging. Suitable for beginners and intermediates, everyone is welcome!
In the near future, I also plan to offer 'Yoga Nidra' classes, as well as breathing/pranayama and meditation workshops … watch this space.
For more information please visit my blog
Xx Namaste xX